'Jewels of the bush' returned in Australia's largest orchid translocation project
01 Oct 2022
Above: Volunteers from the Australasian Native Orchid Society - Vic branch, Corowa District Landcare and Parklands Albury Wodonga, along with staff from Local Land Services, Royal Botanic Gardens Victoria and NSW Department of Planning and Environment planting Oaklands Donkey Orchids. Photo: Alex Pike, DPE
More than six thousand native orchids have been planted across the NSW Murray region as part of Australia's largest orchid translocation project, saving these species from extinction.
NSW Environment Minister James Griffin said under the NSW Government's Wild Orchids Project, three endangered orchid species have been brought back from the brink and are now expected to thrive.
"This enormous translocation project follows years of surveys and research and culminates today with a patchwork of native orchids planted across the Riverina landscape," said Mr Griffin.
"Until now, the future of the sand-hill spider orchid, Oaklands donkey orchid and crimson spider orchid was genuinely at risk as there was a chance we would lose these species forever.
"This project is conservation in action. We know that what we are doing today will save these species into the future.
"The orchids have been planted across public and private land, on specially selected sites with suitable soil conditions, pollinators and vegetation types to encourage their growth.
"These native orchids truly are the jewels of the bush as they are so rare, so valuable and flower in a spectacular range of colours including ruby red, yellow and mauve," said Mr Griffin.
Wild Orchids Project Manager Shanna Rogers said that in partnership with Saving our Species ecologists, Murray Local Land Services coordinated the careful mass planting at different sites over ten days.
"Local Land Services and the NSW Department of Planning and Environment worked closely with project partners to set up orchid re-introduction areas across various tenures. Parklands Albury Wodonga installed stock-proof fencing and water tanks on land owned by Federation Council, Forestry NSW, NSW National Parks and Wildlife Service, Crown Lands and a private landholder in readiness for the orchid reintroduction plantings,' said Ms Rogers.
The orchids were propagated by the Royal Botanic Gardens Victoria and planted in July 2022 with the help of the Australasian Native Orchid Society's (ANOS) Victorian team of highly skilled and passionate volunteers. Local volunteers from Parklands Albury Wodonga, Corowa District Landcare & Woomargama National Park also assisted with the plantings.
"Without the support of our project partners and the local and interstate volunteers, this mass reintroduction of these stunning and threatened orchids simply would not have been possible,' said Ms Rogers.
The Wild Orchids Project is a joint effort by the Local Land Services and Saving our Species program and funded by the NSW Environmental Trust and Saving our Species program, in partnership with Royal Botanic Gardens Victoria, Forestry Corporation NSW, NSW Crown Lands, NSW National Parks and Wildlife Service, the Australian Network for Plant Conservation, Local Government, Parklands Albury Wodonga and landholders.
Above: Close-up of Oaklands Donkey Orchid tuber and roots as it is planted. Photo: Alex Pike, DPE
Below L-R: Sand-hill Spider Orchid, Oaklands Donkey Orchid, Crimson Spider Orchid. Photos: Matt Cameron, DPE.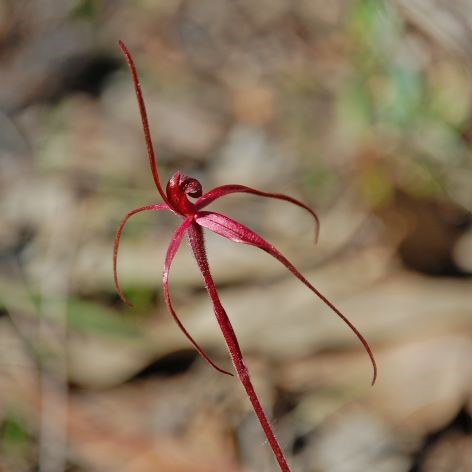 Related information