Natural resource management
The people of NSW rely on the health of our natural resources and productivity of our landscapes. Australia's agricultural industries rely on sustainable water and vegetation management, healthy soils and biodiverse ecosystems.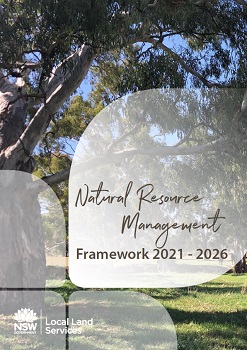 Natural Resource Management services support and enable land managers to better utilise and protect our natural resources - avoiding or reversing their decline, and maintaining land uses that are sustainable and productive.
Effective natural resource management ensures that appropriate measures are in place to maintain and preserve our natural assets.
Local Land Services is committed to working with our communities towards sustainable land use and the protection of natural resources.
Read our Natural Resource Management Framework. PDF, 2402.08 KB
What is Natural Resource Management?
Natural Resource Management (NRM) refers to the coordinated strategies adopted for the sustainable utilisation of our major natural resources, such as land, water, soil, forests, fisheries, plants and animals. Effective Natural Resource Management practices build capacity to manage land through drought, flood, and climate variability, promote resilient business practices, and safeguard our landscapes and natural assets for future generations.
NRM Strategies for healthy landscapes
Whilst the priorities vary amongst regions and land management systems, the most effective natural resource management strategies for tackling the top threats to landscapes include:
maintenance of minimum levels of groundcover and vegetation cover, and construction of vegetative or other structures to reduce runoff and improve soil condition
strategic restoration, revegetation and better management of intact native vegetation to improve its resilience and safeguard habitat for plant and animal species (using genetically diverse, local and climate-adjusted species)
restoration and better management of the riparian zone of rivers, wetlands and estuaries for improved water quality and flood resilience
rehabilitation of gully and streambank erosion
control of invasive species and diseases
protecting sites that will act as climate change refuges
managing native vegetation for conservation purposes
the introduction of land management practices such as grazing pressure management, mixed-species pastures, effluent and fertiliser management.
Each Local Land Services region are in the process of developing regional strategic plans for NRM outcomes. The plans are closely linked to the outcomes in the Natural Resource Management Framework 2021-2026.
Read the North Coast Local Land Services Resource Management Plan 2022-2026 to see how the North Coast region will focus their resources and services. An accompanying Map Book - Supporting Information is available to read in conjunction with the plan.
Local Land Services Role in Natural Resource Management
Through direct action and investment, Local Land Services supports land managers to adopt evidence-based Natural Resource Management practices that are aimed at reducing or removing threats to achieving healthy resilient landscapes. Through partnership and connection, we bring people and organisations together to prioritise management of the greatest threats and increase the scale of effort in tackling those threats.
LLS supports regional communities and landholders to reshape NRM practices through direct action and investment, delivering NRM education through:
demonstration and extension services
advice and information to land managers
implementing on-ground interventions.
Local Land Services contributes to productive and sustainable land use across NSW through partnerships and connection to deliver outcomes at scale, through:
collaborations across private and public land
coordination of effort locally and statewide
connections to our 250,000 customers.
The foundation of sustainable land management and overall ecosystem health is soil management. Supporting healthy soils and landscapes is critical to resilient, profitable and sustainable farm businesses.
Water management is an essential part of rural living. Efficient use of water can minimise costs and maximise the benefit to you, your property and downstream users.
Local Land Services works with landholders, communities, and partner organisations to ensure a balanced approach to natural resource management and biodiversity conservation and enhancement in NSW.
An estimated 1000 native plants and animals are currently at risk of extinction in NSW. Local Land Services delivers programs to support the recovery of threatened species and their habitats.
Sustainable land management activities like carbon farming can enable land managers to diversify their income and make a return from the adoption of NRM practices.
Our natural resource management partnerships
National Landcare Program
Local Land Services is part of the network of regional organisations that are delivery agents under the National Landcare Program.
This program protects and conserves Australia's water, soil, plants, animals and ecosystems, as well as support the productive and sustainable use of these valuable resources.
The National Landcare Program has been developed to address problems such as:
loss of vegetation
soil degradation
the introduction of pest weeds and animals
changes in water quality and flows
changes in fire regimes.
Find out more about the National Landcare Program.
Working with Landcare communities
Local Land Services partners with Landcare community groups across each of the state regions to deliver many natural resource management and agricultural projects.
At the state level Local Land Services in partnership with Landcare NSW deliver the NSW Landcare Program as a collaborative initiative enhancing the capacity of the Landcare community to deliver outcomes that address local and regional issues. This program is funded by the NSW Government and expands on the recently concluded Local Landcare Coordinator Initiative.
Find out more about the NSW Landcare Program and Local Land Services partnership with Landcare NSW.
Related information