Four seasons of seed workshop wrap up
Tammy Galvin, Regional Agriculture Landcare Facilitator
Riverina Local Land Services partnered up with Murrumbidgee Landcare Inc (MLi), Riverina Revegetation and Narrandera Landcare Group to commence delivering the first of a series of workshops titled "Four Seasons of Seed" across the seasons of this year, starting with Summer.
This first Summer workshop was held at Narrandera Landcare Nursery and Food Garden on Monday 28th February, featuring four guest speakers who provided information on the uses of native seed and the practicalities of collecting it. This workshop, aptly titled 'Seed Collection for Sustainability' drew in a crowd of 24 native plant enthusiasts and aficionado's, as well as mad-keen gardeners, and those who wished to delve into the relaxing venture of native seed collection. The workshop series title is the creative idea of Murrumbidgee Landcare Inc's Bidgee West Landcare Coordinator, Jade Auldist.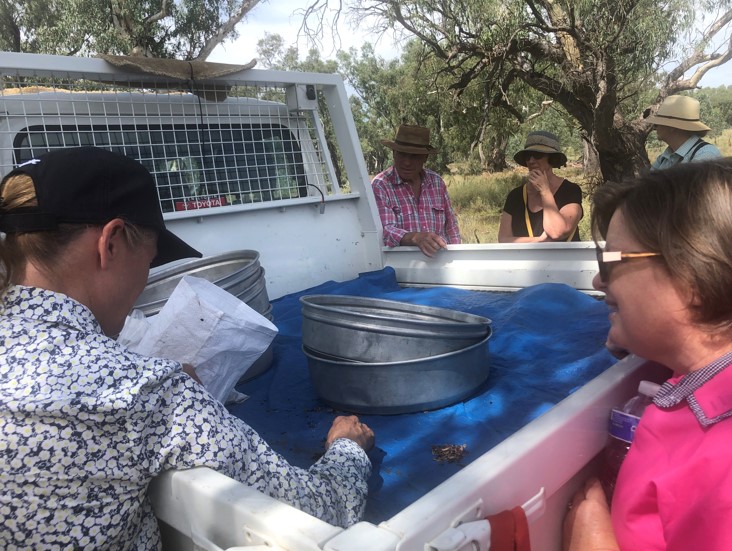 The main speaker of the day was, well-tuned native seed collector, Di Chirgwin of Riverina Revegetation and Coly Saltbush who presented on techniques and methodology of seed collecting, local provenance of species collected, local species for property owners and managers to be on the lookout for. The day was rounded off with a field visit to Gillenbah Travelling Stock Reserve on the Poisoned Waterholes Creek where Di demonstrated the practical side to collecting seed and sieving to separate it from other matter. Timed well before evening rain!
Glenn Currie, from Narrandera Landcare Group and Murrumbidgee Field Naturalists, spoke about the propagating and revegetating projects undertaken by Narrandera Landcare nursery, the community support Narrandera Landcare Group receives. Adding value to Glenn's presentation, workshop participants were able to wander through Narrandera Landcare Food Garden, otherwise known as 'the community garden', where the propagating is carried out for National Tree Day plantings and other local revegetation projects.
Kathy Tenison explained her role as the Local Landcare Coordinator for Murrumbidgee Landcare and how she can help individuals and groups access resources to achieve their goals in Natural Resource Management.
Bernadette Walker, also from Murrumbidgee Landcare, is the Bushfire Recovery Officer, and presented on the efforts going into rehabilitating fire affected areas after the devastation of 2019/20 and the workings of the Riverina Highlands Landcare Nursery based in Tumut. This is a volunteer run nursery supplying the native seedlings needed in their area. Bernadette also drew attendees to the workshop with her topic of 'Seed Collection for Therapy'. In these current trying times, perhaps this is a therapy we all need to invest in and join our local Landcare group and build seed banks for a sustainable future.
Drawing closer to the day of the first workshop, saw the onboarding of other community partners: CWA Narrandera Evening Branch with support to cooking BBQ food, Narrandera Bidgee Boxing with use of THE SHACK for catering prep and venue hire. They were welcomed to collaborate with open arms! Most often these workshops turn out to be not entirely about the theme of the day but, most importantly, the fabulous connections, friendships and support that is the by-product.
This event was also the early celebration of International Women's Day and ran with the United Nations Women Australia theme of 'Changing Climates: Equality today for a sustainable tomorrow'. This theme that recognises the contribution of women and girls around the world, who are working to change the climate of gender equality and build a sustainable future. The workshop speakers, Di Chirgwin, Kathy Tenison, Bernadette Walker and the other women who attended the workshop are certainly contributing to a sustainable tomorrow. Stay tuned for the second workshop this Autumn! 😊
Related information