That's a bit rough…Rough Speargrass
An article in The Short Straw series by Lisa Castleman, Agronomist, Ag Services, Riverina Local Land Services (0427 201 963 or lisa.castleman@lls.nsw.gov.au)
A number of native grasses have already gone into their reproductive mode which is evident by having shot upwards in height and now showing their seed head.
One such species I am receiving enquiry about is Rough Speargrass or Austrostipa scabra. It was formerly called Stipa scabra. It is a C3 perennial grass and if you don't really know the difference between a C3 or a C4 plant then look it up one rainy day. It's interesting to know that plants have two different pathways they use to capture carbon dioxide during photosynthesis. C3 plants are adapted to cool season establishment and growth in wet or dry environments. C3 plants require less light, lower temperatures and more moisture than C4 plants. Rough Speargrass flowers from spring to autumn but already has seed in the head in this season.
Rough Speargrass is widespread and common on the South West Slopes. It occurs on rocky outcrops, paddocks with a westerly aspect and on the lighter textured soils, mid to upper slope where there is shallower soil depth and paddocks often prone to low ground cover. It is highly drought tolerant and frost tolerant.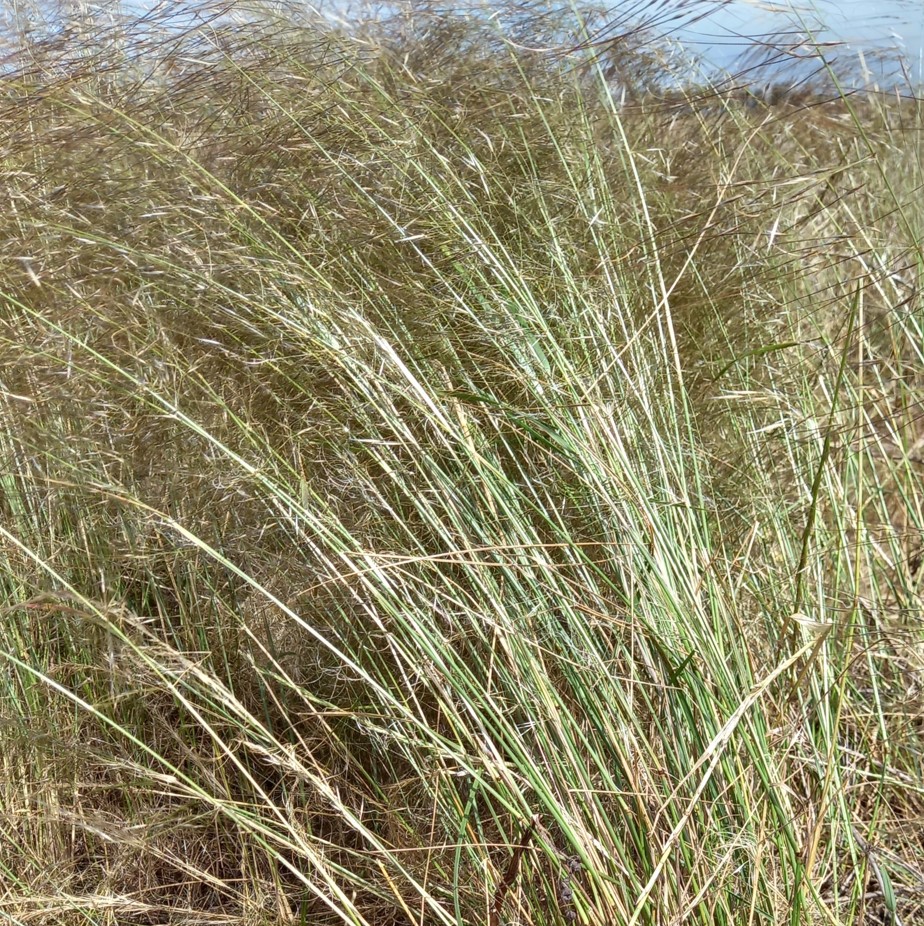 Rough Speargrass is palatable to stock only when young as it develops a high percentage of dead leaf, the dead leaf is very low in feed quality with low digestibility. The crude protein of this plant can range from 3-17% and while these upper levels would be useful, the digestibility of the leaf is usually below 60% which at best would only maintain dry stock. There are other native grasses which have much higher feed value such as Wallaby Grass (C3), Weeping Grass (C3), Red Grass (C4) and Kangaroo Grass (C4). Unfortunately, the seed of Rough Speargrass is also sharp and can penetrate fleeces and the skin, or cause eye damage to livestock grazing in the paddock.
Not grazing this species of native grass during flowering and seed development will favour the spread of the plant in the paddock. The higher rainfall and cooler temperatures this season will have also favoured the plant's growth and survival into next season. Exerting grazing pressure on a paddock of Rough Speargrass will do little now once it has run to head, and would not be favourable for stock, as the feed value has dropped substantially and the seeds are a risk for stock health.
There is an excellent publication on Native Grasses available free to all landholders. The publication is an identification guide for central west NSW, but the majority of species described are present in the Riverina as well. The booklet is called Common native grasses of central west NSW.
There are also two similar looking Tall Speargrass species (Austrostipa bigeniculata and Austrostipa rudis) with a longer panicle (seedhead) and which can grow in dense clumps up to 1.5 metres tall. A. rudis has an awn on the seed up to 9cm long. Use the identification guide to navigate which is present on your property. Other similar looking species include Plume grasses, Snow Grass and the undesirable species of Serrated Tussock and Chilean Needle Grass. Do not confuse a hardy native grass highly useful for groundcover and infrequent grazing for a problematic, costly weed species.
Remember that native grasses are often drought tolerant, frost tolerant but vulnerable to grazing pressure at different times. They are an important part of our landscape and natural biodiversity. Many of them are also important components of healthy, productive pastures. It is worthwhile taking the time to know what we have and how we can manage them for our grazing systems and natural resource management.
Related information