Wild dogs
Anyone who has experienced wild dog attacks on their livestock will confirm it's a stressful and traumatic experience.
The impacts on both livestock and landholder can be significant so we strongly encourage you to plan for wild dogs if you maintain livestock on your land.
About wild dogs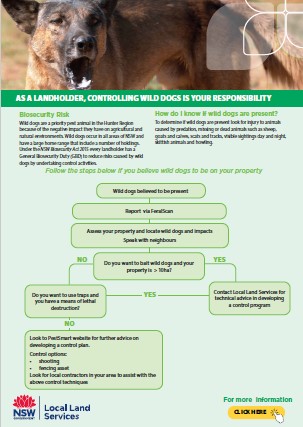 Wild dogs refer to all wild-living dogs including dingoes, feral domestic dogs and the hybrid descendants of these.
They are extremely cunning, which can make their control difficult.
Wild dogs generally operate individually or in a small group, but rarely as a pack. They prey on livestock and native fauna, and spread diseases that affect livestock, pets, native animals and humans. They also pose a direct threat to domesticated pets and animals, as well as humans.
It is vital that you report all sightings and stock losses. Sightings and wild dog attacks should be reported to your Local Land Services office.
To better understand your wild dog control options, download the decision tool. PDF, 259.76 KB
Biosecurity Risk
Wild dogs occur in all areas of NSW and have a large home range that include a number of holdings. Under the NSW Biosecurity Act 2015 every landholder has a General Biosecurity Duty to reduce risks caused by wild dogs by undertaking control activities.
How do I know if wild dogs are present?
To determine if wild dogs are present look for:
injury to animals caused by predation
missing or dead animals such as sheep, goats and calves
scats and tracks
visible sightings day and night
skittish animals
howling.
Find out more about wild dog control
---
Join the Blockies Bootcamp
Curious about managing a small block or farm? Overwhelmed with the complexity of land management?
Get up to speed with our Blockies' Bootcamp – a free newsletter series that will give you the fundamentals of land management.
Join today and each week we'll send you an email unpacking a land management issue. Easy, digestible and hopefully interesting!
Related information