Natural resource management and biodiversity programs in the Hunter Local Land Services region
Updated August 2021
The NRM team in Hunter LLS works to deliver a variety of programs supporting NRM and native flora and fauna recovery and conservation programs at a landscape scale, to protect some of our most unique threatened species, threatened ecological communities and vegetation, important Ramsar wetlands and World Heritage Areas.
We work in close partnership with a range of regional stakeholders and partner groups including (but not limited to) Hunter Region Landcare, Mid Coast to Tops Landcare, National Parks and Wildlife Service, Department of Planning, Industry and Environment- Saving Our Species teams, Mid Coast Council, Cessnock Council, BirdLife Australia, Hunter Bird Observer Groups, Hasting Birdwatchers and Hunter Wetlands Centre, Biodiversity, Conservation Trust and Local Aboriginal Land Councils.
Landholders, community groups, aboriginal groups are encouraged to seek our advice and support for biodiversity and NRM, and in addition may be eligible for funding through our incentives programs (aligned to priority programs with incentives funds).
Find out more about Hunter Local Land Services Incentive programs and our priority areas.
We deliver our program through a range of investment and funding sources, including MACH Energy Australia, Glencore Australia, Hunter Water, Australian Government (National Landcare Program), NSW Government (NRM Services), Hunter Catchments Contributions (Rates Funded).
Our programs
1. Threatened Species and Habitats Projects (National Landcare Program)
2. Weeds in Box Gum Grassy Woodlands Project (MACH Energy)
3. Natural Resource Management (NRM) Services (State Government)
4. Halls Creek Catchment Improvement Project (Glencore)
5. Paxton (Quorrobolong and Congewai Creek) Catchment Improvement Project (Hunter Water)
---
1. National Landcare Program (Phase 2) – Threatened Species and Habitats
Updated July 2021
The Australian Government National Landcare Program, aims to work in partnership with governments, industry, communities and individuals to protect and conserve Australia's water, soil, plants, animals and ecosystems, as well as support the productive and sustainable use of these valuable resources.
The National Landcare Program (NLP) is a nationwide effort to address problems such as:
loss of vegetation
soil degradation
the introduction of pest weeds and animals
changes in water quality and flows and
changes in fire regimes.
Regional Land Partnerships, through the NLP will focus on recovering vulnerable ecological communities, protecting threatened species, and reducing threats to our globally significant wetlands.
Additionally, the Regional Land Partnerships include sustainable agricultural projects to improve soil quality, assist farmers adapt to climate change, and respond to evolving market demands.
Information on the National Landcare Program can be found at www.nrm.gov.au
Hunter Local Land Services have been successful, and contracted to deliver projects under the program, from July 2018 until 30 June 2023.
Read the National Threatened Species Strategy Report 2021 here
NLP2 Program Contact: Lyndel Wilson, NRM Team Leader Lyndel.wilson@lls.nsw.gov.au
Hunter Local Land Services' current environment projects through the Regional Land Partnerships program include:
---
In good hands: Landcare and farmers restoring Box Gum and Grey Box Grassy Woodlands, 2018-2023
The project 'In good hands' will address key threats and implement recovery activities as identified in the National Recovery Plan for White Box - Yellow Box - Blakely's Red Gum Grassy Woodland and Derived Native Grassland, and pockets of Grey Box Woodlands.
The main aim for this project is to improve the condition of Box-Gum Grassy Woodland vegetation within the Upper Hunter. Farmers and Landcare members will increase their knowledge on recovery and restoration methods for Box-Gum Grassy Woodland.
Incentives will be provided to stakeholders to deliver on ground works such as fencing to manage grazing impacts of stock and weed control, to protect and improve the condition of at least 82 hectares of Box-Gum Grassy Woodland, and changed grazing practices for Box Woodland recovery in 110ha within the Upper Hunter (20km buffer of the Goulburn NP and in the Murrurundi region).

Community members will also survey for Fairy Bells (Homoranthus darwinioides) to increase the known records for this species and increase the amount of seed stored in the National Seed Bank.
This project will continue until 30 June 2023.
Project Contact: Catherine Conroy catherine.conroy@lls.nsw.gov.au
Replanting Box Woodlands as part of the Merriwa Landcare Biodiversity Inspire project, supported by National Landcare Program funding 2021
Related Fact Sheets and information:
---
Bringing back the Regent Honeyeater, a flagship species for our forests, farms, rivers and woodland birds: 2018-2023
We will implement recovery actions for the Regent Honeyeater (Swift Parrot & woodland birds) in priority breeding and foraging habitats of the Lower, Central and Upper Hunter, as Key National Recovery Plan actions for Regent Honeyeater are to;
improve the extent and quality of habitat,
increase knowledge of wild populations and,
maintain and increase community awareness and involvement in recovery activities.
We will work with landholders, Landcare, BirdLife, DPIE, farmers, Aboriginal communities and schools through community engagement and on ground restoration through our Incentives program, and through direct engagement in priority areas.
The project will target recovery of key habitats Central Hunter Valley Eucalypt forest, White Box - Yellow Box - Blakely's Red Gum Grassy Woodland and Derived Native Grassland, and River Oak (Upper Goulburn river) through grazing and stock management and bush regeneration (weed control), revegetation, and deer monitoring (Cessnock Forests) on private property and public lands.
A schools education program in partnership with Hunter Region Landcare Network will raise community awareness, and encourage participation.
The project will also establish new formal surveys in the Upper Hunter with landcare and landholders, and maintain surveys in the Lower Hunter to monitor species movement, nesting and behaviour.
Regent Honeyeater feeding on native mistletoe, Mick Roderick (BirdLife) (Courtesy of Mindaribba Local Aboriginal Land Council) 2021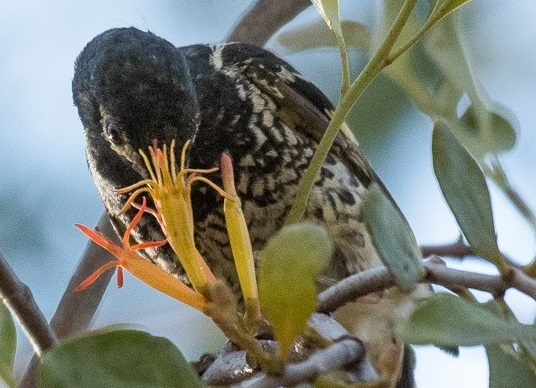 Regent Honeyeater feeding on native mistletoe, Mick Roderick (BirdLife) (Courtesy of Mindaribba Local Aboriginal Land Council) 2021
This project will continue until 30 June 2023.
Project Contact: Carolyn Jenkison Carolyn.jenkinson@lls.nsw.gov.au
Related fact sheets and information:
---
Improving saltmarsh habitat and reducing threats to the Eastern Curlew 2019-2023
The project will implement recovery actions within four priority estuaries in the Hunter Local Land Services region, protecting their most unique biodiversity and species:
Manning estuary
internationally significant sites of Port Stephens Bay (Myall Ramsar)
Hunter Estuary Ramsar Wetlands
nearby Worimi Regional Park
These are identified as key habitats for Eastern Curlew (and related species) in the Hunter region.
These include critically endangered Far Eastern Curlew and EPBC Act listed migratory and resident shorebirds including the vulnerable Little Tern, and Ramsar seabird Gould's Petrel and threatened saltmarsh habitats.
In partnership with stakeholders, Strategic Site Management Plans have been developed for 3 sites to support coordinated efforts for Eastern Curlew and EPBC Act associated species and habitats.
Key activities will include community engagement, maintaining and improving habitat, identifying and controlling invasive species, restoring the Kooragang Dykes/key roosting habitat and monitoring saltmarsh and shorebird populations. Partners will include DPIE, NPWS, Birdlife Australia, Hasting Birdwatchers, Hunter Bird Observers Club, Local Councils, Landcare groups Hunter Region Landcare and Manning Coastcare, Worimi Aboriginal Green Team, Taree Indigenous Development and Employment and landholders.
This project will continue until 30 June 2023.
Eastern Curlew in Saltmarsh, courtesy Hunter Bird Observers Club
Project Contact: Jennifer Lewis jennifer.lewis@lls.nsw.gov.au
Related fact sheets and information:
---
Understanding the Australasian Bittern to improve and protect important habitats for their survival 2019-2023
The project will improve habitat for Australasian Bittern (Bittern) in Cattai Wetlands, Myall Lakes and Hunter Estuary: Hexham Swamps, Tomago and Kooragang Wetlands and Shortland-Wallsend corridor.
The Australasian Bittern is Endangered in Australia, and specialise in living in dense beds of reeds and rushes, where they are surprisingly difficult to see, as they are particularly well camouflaged. It is hardly surprising that the species is seldom recorded. The bittern is a regular, but seldom seen, visitor to the Hunter region, including an important species to the Hunter Estuary Ramsar wetlands.
Knowledge gaps will be addressed through Bittern surveys and monitoring, overseen by BirdLife Australia, with Hunter Bird Observers and local ecologists.
Australasian Bittern, Nathan Hays 2020
Partnerships will be formalised through a technical working group which will also confirm priorities and align existing monitoring, confirm on-ground activities and education programs and collate existing data to develop a pest animal management plan.
Planting, weed control and fencing on private and public land will improve habitat condition and extent of preferred habitats, including Rocky Knob, a significant cultural site to the Awabakal people.
Landcare groups will be engaged to build on existing habitat improvement programs. Education and engagement activities will increase awareness of the Bittern threats including fox control and recovery actions, and build landholder capacity to implement practice change, improve and connect critical habitats, with support from Hunter Wetlands Centre and Hunter Region Landcare.
Project Contact: Jennifer Lewis jennifer.lewis@lls.nsw.gov.au
Related fact sheets and information:
---
NRM Regional Bushfire Recovery in the Blue Mountains and Mid Coast Region – Hunter 2020-2022
This project will assist in the recovery and resilience of priority species, ecological communities, and natural assets in areas within and adjoining bushfire regions of the Greater Blue Mountains and Mid Coast, Gondwana Rainforests World Heritage Areas and the Mid Coast, through five sub-projects:
Reducing predator and herbivore impacts on the recovery of threatened species and ecological communities Littoral Rainforest;
Reducing weed impacts and supporting recovery of habitats for threatened species and threatened ecological communities Littoral and Lowland Rainforests and Coastal Swamp Oak Forest;;
Species-specific actions or bushfire impacted fauna including Koala, Brush Tailed Rock-wallaby, Quoll, Long Nosed Potoroo, Greater and Yellow Bellied Gliders, and Regent Honeyeater;
Protecting riparian banks for the Manning River Helmeted Turtle, Small Crayfish and Platypus
Regent Honeyeater refuge and refugia – traditional owner led cultural and environment protecting using traditional fire practices
Efforts will be supported by the development of the Mid Coast Bushfire Threatened Species Recovery Plan and Mid Coast Koala Recovery Plan (partnered with Mid Coast Council), to assist identification of local priorities and actions within this severely bushfire impacted region, for community, agency and grass roots recovery efforts.
This project will work with partners and landholders to support a range of ongoing recovery efforts in bushfire impacted areas, including ongoing weed control, installation of protective fencing, erosion structures and enhancement of impacted vegetation through planting and weed control, nest box installation and specific species recovery actions (including pest and threat management).
Darawank Nature Reserve - TIDE Rangers removing Ludwidgia Longifola through a National Parks and Wildlife, Mid Coast Council and Hunter LLS partnership post fire initiative 2020 (Care of NPWS)
Key partners include Mid Coast Council, Hunter Region Landcare (and landcare groups), Mid Coast to Tops Landcare and Manning River Turtle Conservation Group, BirdLife Australia, Mindaribba LALC and collaboration with National Parks and Wildlife Service and DPIE-Saving Our Species and DPI Fisheries.
Project Contact: Rye Gollan rye.gollan@lls.nsw.gov.au
Related fact sheets and information:
---
Koala Recovery In the Hunter- Mid Coast and Lower Hunter Region – Hunter 2021-2022
The project will be the first regional Koala project in the Hunter for strategic Koala habitat protection and enhancement in important Koala strongholds within the Area of Regional Koala Significance (ARKS) of the Mid Coast and Lower Hunter, aligned to the NSW Koala Strategy, with three partner initiatives "Koala Safe Places", "Paddock Regeneration for Habitat Connectivity" and "Kirrawak Post Wildfire Management Restoration" with key partners Mid Coast Council, Forestry NSW and Mid Coast to Tops Landcare Connection.
Recovery and expansion of habitat for Koala movement will be supported by Koala surveys of recovering populations, pest surveys, a regional seed collection initiative and landholder education and incentives program to support Koala habitat restoration sites on private lands within corridor and linkage areas.
Priority areas for landholder projects will be identified through the Mid Coast Koala Plan, including public and indigenous lands. Key initiatives include Koala surveys, regeneration and revegetation and protection of habitat (through fencing, weed control and fire management), and management of other threats.
Key partners include Mid Coast Council, Mid Coast to Tops Landcare, Forestry Corporation NSW, DPIE-NSW Koala Strategy.
Project Contact: Lyndel Wilson lyndel.wilson@lls.nsw.gov.au (Lower Hunter) or Reegan Walker reegan.walker@lls.nsw.gov.au (Mid Coast)
Related fact sheets and information:
---
2. Weeds in Box Gum Grassy Woodlands in the Merriwa plateau (MACH ENERGY) 2019-2028
The "Weed Project - Priority Weed Management in Box-Gum Grassy Woodland (BGGW) on the Merriwa Plateau" project will deliver services to landholders in the Merriwa Plateau. The project aims to deliver high priority weed activities for up to 9 years that are consistent with the recovery actions identified in the National Recovery Plans for the White Box - Yellow Box - Blakely's Red Gum Grassy Woodland and Derived Native Grassland Ecological Community.
In 2018-19 we conducted a community survey with landholders in the Merriwa plateau, to understand local values, knowledge and priorities related to management of Box Gum Grassy Woodlands in the area. This survey has supported key priority initiatives through this project, and identifies priority weeds in the project area for management (priority order):
Prickly Pear
St Johns Wort
Blue Heliotrope
Fireweed
Noogoora Burr
Boxthorn
Blackberry and Bathurst Burr
Merriwa Box Woodland –Community Survey Results Snapshot Report
In 20/21 we engaged with Upper Hunter Weeds Authority and DPI NSW to develop local Blue Heliotrope trials, develop a Blue Heliotrope Manual, and support additional biological research studies relevant to NSW management of this weed in woodland settings. Landholders and specialists will be invited to participate in the BH Best Practice Management Guide to contribute to local case studies and local methods of control.
Activities to be delivered, through this project, include:
Research programs and trials- including Blue Heliotrope
Landholder engagement-extension advice, planning and support
Education and awareness activities
Weed and grazing plans
Incentive programs - on ground activities with landholders
Hunter Local Land Services invites land managers within the Merriwa plateau to submit an expression of interest to undertake weed control and/or revegetation within remnant Box-Gum Grassy Woodland using this form. Further details, including project and landholder eligibility, can be found within the form.
This project is supported through funding from MACH Energy Australia.
Project contact: Catherine Conroy Catherine.conroy@lls.nsw.gov.au
Related information:
---
3. NRM Services Programs and Support 2021-2023
Can you Dig It? A new program to support small-scale revegetation projects.
Hunter Local Land Services piloted a new program in 2021 to support landholders in the Hunter region to implement small native revegetation projects: Dig It- Small-scale Revegetation. With current suitable weather conditions, and more awareness on the value of native vegetation, ecosystem services, natural capital and improved productivity benefits on farm, we have developed this program.
Through the pilot program, we supported 17 individual native revegetation projects, ranging from wildlife corridors, shelterbelts, dam enhancement plantings and riparian revegetation.
We will support landholders to:
Extend existing remnant vegetation areas
Improve structural diversity of existing remnant vegetation
Create new shelterbelts or habitat corridors that link reserves or patches
Connect or incorporate existing mature paddock trees
Protect and enhance farm dams or riverbanks.
To do this, we will provide more training across the region in seed collection and home-propagation, revegetation methods and tips, landholder advice, planning and support, and other guidelines and resources including a small grants program.
UPCOMING COURSES AND WORKSHOPS
Seed Collection and Propagation September 2022 (Millfield, Kooragang) and February-March 2023 (Cessnock, Kooragang, Taree)
Revegetation Basics- October 2022 (Dungog, Singtleton, Taree).
– see our Events Page, Facebook page or register an EOI below to receive invitations to upcoming workshop dates. We will also work with Landcare Networks and other partners to extend their current support to landcare group and members to also "grow" their revegetation projects in the region.
How to get involved?
Get in touch with Hunter Local Land Services by submitting an Expression of Interest (EOI) through the link below. We have many other strategic programs and priority funding available (check our priority map), and by submitting an EOI we will assign you to the appropriate Local Land Services advisory officer, who will tailor their support and advice based on your needs, interests and options. Our small grants program will invite landholders who have sought EOIs to apply to funding where they align to the program.
Hunter LLS Expression of Interest Form.
Relevant Resources:
---
4. Halls Creek Catchment Health Improvement Project 2019-2023
Hunter Local Land Services and Glencore Australia are working with Landholders in the Upper Hunter to improve the health of Halls Creek and its catchment, and building on work with Glencore in previous ye in the adjoining Wybong Catchment.
Landholders in these catchments have been supported to improve the health of native vegetation and reduce soil erosion on river-banks, manage stock and reduce sediment or runoff entering the catchment, and enhance pockets of vegetation for native wildlife.
The project has supported multiple projects with:
Riparian restoration and creek bank vegetation protection through fencing and stock watering
Grazing and fertiliser management through holistic management and grazing systems
Enhancement of native vegetation through weed control and revegetation
Monitoring of woodland birds, as indicators for catchment health
Hunter LLS invite land managers in the Halls Creek and Giants Creek catchments to submit an expression of interest to undertake on-ground riparian (stream/riverbank) enhancement works using this form. Further details, including project and landholder eligibility, can be found within the form.
Contact: Catherine Conroy, Catherine.conroy@lls.nsw.gov.au
Project Related Information:
---
5. Paxton (Quorrobolong and Congewai) Catchment Improvement Project 2019-2023
For the past five years, Hunter Water and Hunter Local Land Services have worked together to provide small grants and advice to landowners to complete creek protection works on their properties to protect and enhance creek banks and adjoining lands. This work has been complemented by the Hunter Catchments Contributions erosion and stream bank stabilisation works in several locations within the Catchment, supported by Hunter LLS staff and LLS Soil Conservation Service.

The aim of this work was to improve the water quality in Congewai and Quorrobolong Catchments. These Catchments include Cony, Congewai, Sandy, Clink, Reedy, Stewarts, John Elm, Wallaby Gully and Quorrobolong creeks and their tributaries.

Hunter Water has invested more than $400,000 in the project, with landholders contributing over $500,000 in in kind and funding towards on ground project work to protect creeks and improve water quality. The project was managed by Hunter LLS.
Altogether, the partnership has rehabilitated 43 hectares of riparian land (land along the banks of creeks) and protected 18 kilometres of creek bank through stock exclusion fencing, troughs and erosion control. The project has also improved grazing practices across 180 hectares of adjoining grazing lands, increasing pasture cover and reducing sediment and nutrient runoff into the creek.
Riverbank fencing and stock watering on Congewai Creek.
In 2021 the project will wrap up, including conducting assessment of the on-ground benefits for water quality and riparian rehabilitation and protection, community survey on how the project has benefited the catchment region, and identify future actions that may be delivered in the region for similar benefits.
Partner investors: Hunter Water and co-contributions from the Hunter Catchments Contributions
Project Contact: Carolyn Jenkinson Carolyn.jenkinson@lls.nsw.gov.au
Related fact sheets and information:
Updated August 2021
Related information