Bushfire Recovery for Wildlife and Habitats
SUPPORTING THE RECOVERY OF BUSHFIRE-AFFECTED WILDLIFE AND HABITATS ON THE NORTH COAST
The NSW North Coast and adjacent Tablelands regions were identified as among the most severely impacted by the 2019-20 bushfires. A staggering 1,633,000 (23%) of the total 7,155,320 hectares was burnt, with 45% of this at a high to very high severity. The region is fortunate to contain 73% of the Gondwana Rainforest of Australia World Heritage Area, but a devastating 46% of this was burnt. Rainforests are highly sensitive to fire and can be significantly impacted, even at very low fire severity. Across the region, the bushfires have pushed dozens of already-threatened native plant and animal species closer to the brink of extinction.
In response to this crisis, North Coast Local Land Services has received a series of support packages through the Australian Government's Bushfire Recovery for Wildlife and their Habitats program. To date, just over $4.5M has been committed to provide strategic on-ground support for the most impacted native species and ecological communities in our region.
This work has only been possible through effective collaboration and partnerships, with a big thanks to those who have been part of the program so far, including: the NSW Saving our Species Program, NSW NPWS, NSW Forestry, Yaegl Traditional Owners Aboriginal Corporation, Minyumai Land Holding Aboriginal Corporation, BirdLife Australia's KBA Guardians, Conservation Volunteers Australia, Nature Conservation Council of NSW, Border Ranges-Richmond Valley Landcare Network, Clarence Landcare, Bellingen Landcare, private landholders and community volunteers.
Together, we have so far achieved:
400,000+ hectares of strategic pest animal control (targeting wild dogs, foxes, feral cats, deer and cane toads) to assist the recovery of 17 nationally significant species.
195 hectares of weed control focusing on vital locations for the critically endangered Eastern Bristlebird, Bellinger River Snapping Turtle and Nightcap Oak, and the Lowland Rainforest Threatened Ecological Community.
12 fauna surveys to assess the post-fire population status of the endangered Koontoo (Hastings River Mouse) and Rufous Scrub-bird, to inform recovery actions.
40 nest boxes installed, and 142 large habitat trees protected from future fires, to improve habitat for hollow-dependent species.
5 hectares of cultural burning at the Minyumai Indigenous Protected Area to protect Country and prevent future wildfire destroying unburnt remnants and culturally significant sites.
In 2021-22 the program will extend and consolidate these works, with an increased emphasis on supporting Traditional Owner-led healing of bushfire-affected Country.
North Coast Local Land Services is grateful for the Australian Government's generous support and looks forward to continuing to work with all our wonderful partners to improve the post-bushfire recovery of our priceless natural heritage.
Loading up the helicopter in preparation for aerial baiting of wild dogs. Photo: Michael Elliott.
A Birdlife KBA Guardian volunteer undertaking surveys for the endangered Rufous Scrub-bird. Photo: Peter West.
Indigenous Rangers at the Minyumai Indigenous Protected Area undertaking weed control works. Photo: Sarah Maclagan.
An endangered Hastings River Mouse (or Koontoo) captured during post-bushfire surveys. Photo: Sarah Maclagan.
Indigenous Rangers at the Minyumai Indigenous Protected Area clearing around a large habitat tree to protect it from future fires. Photo: Russell Irving.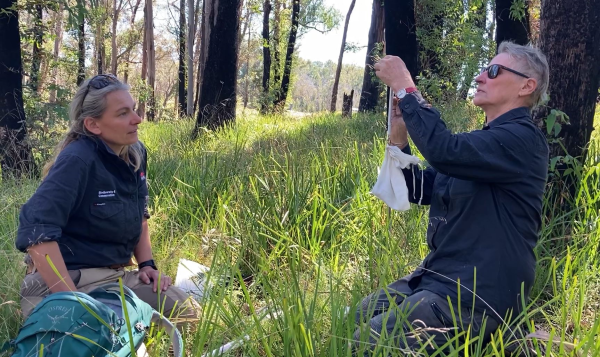 Scientists from the Department of Planning, Industry and Environment weigh a Hastings River Mouse captured during post-bushfire surveys. Photo: Sarah Maclagan.
Indigenous Rangers installing nest boxes on Yaegl Country. Photo: Nigel Blake.
--
This project is supported by the Australian Government's Bushfire Recovery package for wildlife and their habitat.
Related information