World Parrot Day
NRM NEWS – MAY 2020 – SIGNIFICANT SPECIES
By Shanna Rogers
Senior Land Services Officer P: 02 6051 2241 | M: 0457 733 261 | E: shanna.rogers@lls.nsw.gov.au
May 31 is World Parrot Day. A day to appreciate these colourful birds, raise awareness about threats to parrots, and what we can do to help conserve parrots and their habitat.
There are around 372 different parrot species worldwide. Parrots are some of the most striking and colourful bird species, are believed to be some of the most intelligent birds, they can imitate human voices, and some parrot species can live for over 80 years!
The Murray region is home to an estimated 30 different species of parrot. Some of these species live year-round within the region, and others are nomadic and migrate into the area at different times of the year. Of the 30 species of parrot found in the Murray region, ten are endangered or vulnerable.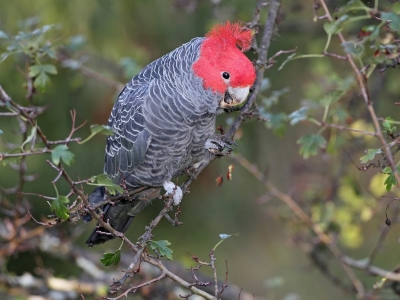 Threatened parrots found within the region at various times of the year include:
No matter where you live in the region, there are a few things you can do to help our native parrots:
Desex pet cats and keep them indoors.
Plant native species in the garden, local park or on the farm to provide foraging habitat.
Protect hollow-bearing trees on your property, 1 in 5 native birds need a hollow for breeding.
Enhance existing roadside vegetation by planting a corridor on your property to provide flyways and foraging habitat.
Manage grazing in foraging areas to prevent the loss of food resources.
Report suspected illegal bird trapping, egg collection or sales to NPWS.
Learn more about the different parrot species found near you & help monitor local populations.
Top photo: Superb Parrot. Neville Bartlett; Bottom photo: Gang-gang Cockatoo. Chris Tzaros.
Related information