North Coast Communities Fighting Hard to Control Cane Toads
28 Sep 2021
Recent cane toad control efforts in northern NSW have resulted in the control of over 10,000 adult and juvenile toads on 62 private properties affected by this invasive pest species.
North Coast Local Land Services General Manager, Louise Orr, said this is a fantastic result for biosecurity in northern NSW.
"It highlights how if we work together with landholders and the community, we can make inroads in the control of this major pest and prevent it spreading to other parts of NSW," Ms Orr said.
LLS engaged regional Landcare networks Border Ranges Richmond Valley Landcare Network and Clarence Landcare to deploy on-ground teams who carried out collection and trapping on landholder properties.
The program delivered education and training to private landholders in the Kyogle, Richmond and Clarence local government areas, aiming to equip them with tools to identify and control cane toads on their properties into the future.
Ms Orr said one female cane toad can produce between 8000 to 35,000 eggs annually.
"Managing populations of this highly invasive species in a large landscape is a challenge and requires a coordinated approach," Ms Orr said.
"Targeting a network of multiple properties the program is able to maximise results and control even more toads.
"I am particularly proud the program engaged 16 Indigenous people as sub-contractors to carry out control work. Not only has this directly supported local employment in northern NSW areas that were hit hard by the 2019-20 bushfires, we successfully supported Aboriginal businesses in line with State-wide procurement objectives."
Cane toads are a serious invasive species and recognised as key threatening process for threatened species and ecological communities under Commonwealth and NSW legislation.
Pest control activities have operated within the biosecurity zone established under the NSW Biosecurity Act 2015. With community education ongoing, the public is being asked to report any suspected cane toads, as the specimen could be a native frog. The amphibian should not be killed if it has not been positively identified as a cane toad.
A suspected cane toad should be immediately reported to NSW DPI Biosecurity through its helpline on 1800 680 244 or by completing the online form or emailing a photo of the face and details to invasive.species@dpi.nsw.gov.au
ENDS
Media Contact: Mindy Greenwood, North Coast Local Land Services M: 0405 352 320
Image Caption: Female Cane Toad weighing 2kg captured by Clarence Landcare Teams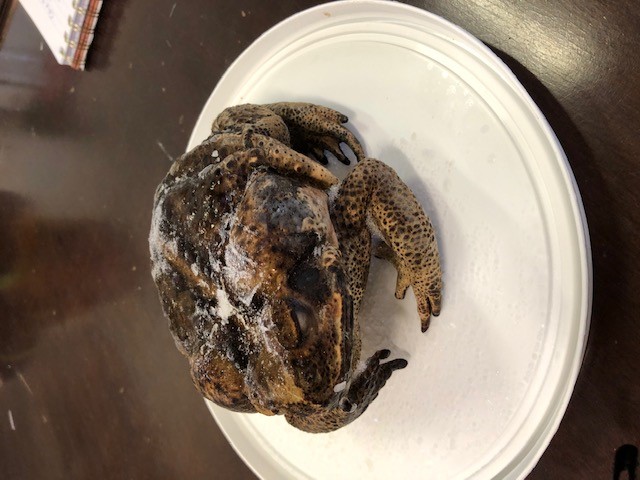 Related news
Related events
North Coast
3 Mar 2023 10:00 am - 2:00 pm
Seasonal Livestock Update - Grafton
Join us for a seasonal livestock update and talk about Autumn management issues.Please bring a fold out chair & drin...
View event
North Coast
2 Feb 2023 9:00 am - 11:00 am
Getting the Edge on Sedge: Field Trial Introduction
Sedges, Rushes and Tussock Management.Please join us for an introduction to the field trial we are establishing to deter...
View event
North Coast
29 Nov 2022 10:00 am - 3:00 pm
Paddock Plants and Weeds with Carol and Harry Rose | Port Macquarie
Are you a land manager? Would you like to improve your identification of plants, analysis of landscapes, and understandi...
View event
Related information