Plains-wanderer art exhibition
NRM NEWS - FEBRUARY 2021 - SIGNIFICANT SPECIES
By Shanna Rogers
Senior Land Services Officer - Plains-wanderer project
P: 02 6051 2241 | M: 0457 733 261 | shanna.rogers@lls.nsw.gov.au
The 'Bringing the Plains-wanderer back from the brink' art exhibition is currently on display at the Peppin Heritage Gallery, Deniliquin.
The exhibition features works from twelve talented artists and aims to raise awareness of the critically endangered plains-wanderer and its conservation needs.
The plains-wanderer (Pedionomous torquatus) is a small, ground-dwelling bird that inhabits sparse native grasslands. Plains-wanderers are one of a kind. They are the only surviving species in their family & they sit alone on their branch of the evolutionary tree.
Once found from Victoria through to Queensland, small fragmented populations are holding on in western Victoria, eastern South Australia, and the Riverina region of NSW. Found only in south-eastern Australia's arid grasslands, there are estimated to be between 300 and 1,000 plains-wanderers left in the wild today.
Long-term monitoring of the Plains-wanderer population in this area has shown they have declined by 93% since 2001. Over the past two decades, there have been long dry periods, such as the millennium drought and some very wet years. This has meant that large areas of habitat have often been too sparse or too thick to support birds.
The plains-wanderer art exhibition will be at the Peppin Heritage Gallery, Deniliquin, until Wednesday, 3 March. Then it is off to The Foundry, Echuca from 5 March to 30 March; The Spot, Hay from 2 April to 30 April, with more venues and dates still to be confirmed in May.
Don't miss this opportunity to see the awe-inspiring artworks depicting the plains-wanderer and its habitat!
Exhibition Dates:
5 February to 3 March – Peppin Heritage Gallery, Deniliquin
5 March to 30 March – The Foundry, Echuca
2 April to 30 April – The Spot, Hay
More venues and dates to follow
You can also view exhibition artworks with artist descriptions from the South West Arts website.
Curated by South West Arts, this exhibition is supported by Murray Local Land Services and Riverina Local Land Services, through funding from the Australian Government's National Landcare Program and the NSW Government's Saving our Species program.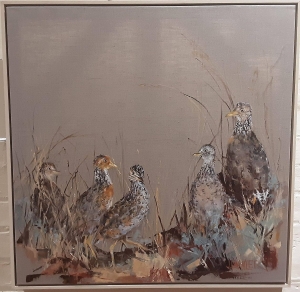 Top artwork: Plains-wanderer booklet by Josephine Duffy. Bottom artwork left to right: The Hollow mixed media fibres by Kate Smith, Plains Wander Family painting by Christina Whitehouse, The Plains-wanderer painting by Jan Lawler, Hidden in Plain Sight stumpwork embroidery by Miranda Brett.
Related information